Children's Dentistry In Toledo
Serving Our Pediatric Patients at Our Dental Office in Sylvania, Ohio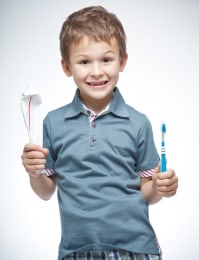 Choosing a children's dentist is one of the most important decisions a parent makes. Selecting the right dentist for your child will make all the difference in how they take care of their teeth, as well as how they respond to future dentist visits. An experienced children's dentist knows how to calm nervous children and parents, while educating the whole family on proper preventive care.
At Dental Health Associates, our staff takes pride in the way we work with children. Three of our Sylvania doctors have young children of their own and two of the doctors have grandchildren whom we see in the office. All of our staff members take extra care, making sure to use a gentle touch with all our younger patients. As a children's dentistry in Sylvania we always carefully explain to you what is going on with your child's dental care and also answer any questions that you or your child may have about any of our dental procedures or the process involved. We will sometimes use nitrous oxide to reduce anxiety about any necessary treatment, with parental approval. We also carefully show and tell each child what is happening during the visit, to be sure that we reduce anxiety. For children that do have cavities, most of the time they can be treated with the Solea. So no shot, so no numb lip, no numb tongue, no fear of the needle, no pain, and they can eat and drink afterwards. We will talk with parents about their child's normal tooth development and assess the need for interventions such as orthodontics.
In addition to preventive care, teeth cleaning and education, our dentists and staff can help with:
Sports mouth guards
Breaking habits such as thumb sucking and pacifiers
Teething
Cavities
Tooth or mouth problems associated with diabetes, asthma or other chronic illnesses
Broken teeth or other dental injuries
FAQs
Is Dental Heath Associates of Sylvania kid-friendly?
Our practice is both kid-friendly and family-oriented. As such, we take the extra step to involve parents in their child's dental care to ensure everyone's comfort. We are here to answer any questions and provide guidance regarding your child's dental health. Our skilled, compassionate staff understand that the dentist's chair can be a source of fear for many children. We will consistently work to alleviate your child or children's anxiety about visiting the dentist by creating a fun, relaxing, and happy atmosphere. Parents can rest assured that our pediatric dentistry services are safe, effective, and intended to protect their child's smile.
How can I help my child feel more comfortable about going to the dentist?
As parents, we strive to give our children the best — this includes excellent dental care that will set them up for a great smile that will last a lifetime. Navigating dental care in the early stages can be confusing or even overwhelming for both parents and children. The dentists at Dental Health Associates of Sylvania are dedicated to providing your child with a positive dental experience in a comfortable environment. Our staff can provide additional information to you about the essentials of children's dentistry, including how parents can help establish a strong foundation for their children's dental health.
Can I help protect my child's teeth from cavities?
Many children experience cavities at some point during childhood. If left untreated, cavities lead to toothaches and possibly infections, which could impact eating, speaking, and your child's ability to focus on regular activities. The odds of your child getting a cavity increase if:
The child eats or drinks foods that are high in sugar, such as soda and juice — especially if consumed between meals
Other family members (such as siblings or parents) have a history of cavities
The child wears braces or uses special orthodontic appliances
Fortunately, cavities can be avoided with good oral hygiene practices. Fluoride treatments can help prevent cavities in children, as can brushing with toothpaste that contains fluoride. Dental sealants can also help children experience fewer cavities and are effective for many years. One of our dentists may recommend these and more actions that you and your child can take to help protect their teeth from decay and damage.
How can I help my child establish good dental habits?
Good oral hygiene habits should be adopted early to encourage lasting dental health. For toddler-aged children, parents are encouraged to brush twice daily. Children three and older should brush twice a day, under the supervision of parents, until proper manual dexterity is developed.
Regular dental appointments, especially at Dental Health Associates of Sylvania, support great oral health and could help relieve some dentist-related anxiety in children. Parents should also observe any oral habits of their children that could jeopardize their smile, such as thumb sucking, which could lead to teeth misalignment. Provide this information to one of our experts who can recommend a treatment plan for your little one.
Our Sylvania's Children's dentistry is among our passions at Dental Health Associates. We have many parents who tell us their kids want to come to the dentist because the experience is not only positive, it is fun! We have a nice play area in the office and make sure the kids get prizes and stickers at each visit. Call our Sylvania office today.