Restorative Dentistry Services in Toledo
Dental Office in Sylvania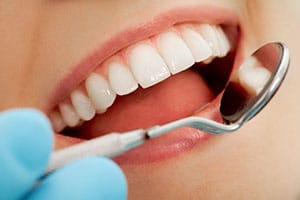 Restorative dentistry services repair, rebuild or replace teeth when something goes awry. Although the primary goal of restorative dentistry is to help the teeth and mouth function properly, these services also help improve the look of a smile.
If you have one or more broken, decayed or missing teeth, our team will work hard to treat these issues. We will lay out the available options and help you decide how best to proceed.
CEREC Same-Day Restorations
The CEREC system has changed the way our practice treats broken or missing teeth. Traditionally, if you wanted a crown, you would need to schedule two dental visits and wait for your restoration to be constructed off-site at a dental laboratory. Thanks to CEREC technology, we can design, construct and place your restoration in a single appointment, completing every step in-house. The restorations are just as strong and beautiful as lab-created restorations, but they can be completed much quicker.
Dental Implants
Dental implants are a great way to replace missing teeth. Unlike bridges, which attach to the adjacent teeth, or dentures, which rest on the gums, implants are anchored in the jawbone. As you can imagine, they are very strong and stable. They also provide stimulation to the jawbone to prevent bone deterioration. The placement process for dental implants is slightly more involved than that of other dental restorations, but the results can last a lifetime.
Full Mouth Reconstruction
Full mouth reconstruction is the process of rebuilding or replacing all of the teeth in the upper and lower jaw. The goal is to completely restore your ability to eat, speak and smile confidently. Our dentists do this by combining different restorative dentistry treatments. Every full mouth reconstruction is different, and yours will be tailored to your individual dental needs. Depending on the circumstances of your case, your full mouth reconstruction could include the placement of dental crowns, implants and/or bridges and possibly adjunct treatments such as orthodontic or periodontal treatment.
Minimally Invasive Restorative Dentistry
Our team believes in using the least invasive treatment methods whenever possible. For example, we never replace more natural tooth structure than is absolutely necessary, because we know that preserving as much natural tooth as possible is best for its long-term health and stability. Another example is using inlays or onlays instead of traditional fillings (whenever appropriate) to help conserve more natural tooth structure.
We try to incorporate this set of values into other areas of our practice. For instance, we may recommend teeth whitening to improve the look of dull (but structurally sound) teeth instead of placing restorations like veneers or crowns. And, we use dental lasers instead of dental drills to remove decay and bacteria from the teeth and gums.
Schedule an Appointment With Our Team Today
You deserve the comfort and confidence that comes from having a complete, healthy smile. To discuss your restorative dentistry options with our team, please contact Dental Health Associates today and request an appointment.