Cosmetic Dentistry
With today's modern dental practices and technology, you don't have to live with dental problems. Many people who have dental problems will avoid smiling, talking and laughing because they are embarrassed about their teeth. Discolored teeth, broken teeth, missing teeth and crooked teeth are all reasons why our patients come in for Cosmetic Dentistry at Dental Health Associates.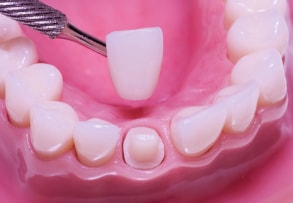 If you're looking for the best in Cosmetic Dentistry in Toledo, Dental Health Associates is the right place for you. Our experienced team of dentists uses the most up-to-date techniques and the most current technology to provide you with the "Hollywood Smile" you've always wanted. We believe our team of clinicians can provide you with the very best cosmetic dentistry in the Toledo area. Whether you come in for teeth whitening, porcelain veneers, custom cosmetic dentures, or other cosmetic procedures, you can feel secure that you are getting the very best care possible. We also have our own team of certified dental technicians in our office that will make sure that the crowns, veneers and bridgework that make up your smile are of the highest quality and can be customized while you are at your appointment.
We encourage you to come in for a free consultation to discuss the results you would like to achieve. Our dentists are always happy to show you how we use our advanced technology, and to show you real results with real people. Or, take a look at our before and after photos. We want you to be comfortable with your choice of cosmetic dentistry providers, so our dentists are committed to staying abreast of the latest technologies and procedures through regular training and education.
Cosmetic Dentistry Treatment Options
Invisalign
Invisalign corrects cases of minor tooth misalignment or poor spacing, where the problem is mostly cosmetic. Invisalign was created for the patient that wants straighter teeth without wearing visible, uncomfortable metal braces.
Porcelain Crowns
Porcelain crowns or "caps" are small tooth restorations that look, feel and function similar to a natural tooth. They are placed on teeth that are cracked, broken or otherwise structurally compromised and need support and strength. Crowns blend in seamlessly with the surrounding teeth and last for many years.
Dental Bridges
Dental bridges are used to close gaps left by missing or extracted teeth. A traditional dental bridge is usually composed of an artificial tooth attached to a crown on either side.
Dental Bonding
Dental bonding involves using a clear resin material to sculpt or shape a tooth and improve its appearance. Bonding is a quick and easy way to repair small chips or cracks, close small gaps between the teeth, cover stains and make the teeth look longer.
Porcelain Veneers
Porcelain veneers are small pieces of ceramic that slip over the surface of the teeth to mask imperfections. Veneers can be used to conceal small chips, cracks, stains, discoloration or spaces; they can also improve uniformity in tooth shape and size.
Snap-on Smile
The Snap-on-Smile is a non-invasive, removable arch used for cosmetic purposes. Thin yet strong, it fits over the teeth and gives you a beautiful smile immediately.
Teeth Whitening
Professional teeth whitening treatment can lighten teeth up to eight shades in an hour. Powerful bleaching agents are applied to the teeth to lift stains and discoloration for a gorgeous white smile.
Tooth-Colored Fillings
Nowadays many dentists are replacing old metal fillings with tooth-colored fillings. The composite resin material used in the fillings is similar in color and texture to natural teeth, so they blend in flawlessly and are inconspicuous.
Cosmetic Dentistry FAQs
Q: If I want a "Hollywood Smile," does it cost movie star prices?
A: Depending on what you want done, it can be as little as bleaching for under $200, or a full mouth transformation. Often, we can do this in stages, allowing you flexibility to complete your treatment at a pace that works for you.
Q: Are caps or crowns the only way to get a perfect smile?
A: Actually, there are many ways to get a perfect smile. Cosmetic Dentistry can be compared to art. There can be a number of different choices to obtain the result you are looking for. That is why we have free consultations, so that you and the doctor can decide on an option right for you.
Q: Why should I consider Cosmetic Dentistry?
A: Enhancing your smile can bring many rewards. Recent studies show that a smile that you can be proud of boosts self-confidence and can actually help you with job searches and promotions. Cosmetic Dentistry not only enhances your smile, it helps create a "new you."
Q: How much do braces cost?
A: The cost of braces varies based on the specific needs of the patient and the kind of braces chosen. The dentists at Dental Health Associates will work with you to determine the best course of treatment and provide you with a complete estimate for the cost of your care. In many cases, there are payment plans available.
Contact Dental Health Associates today and get that "Hollywood Smile" you've always wanted!