Mini-Dental Implants In Toledo
At Our Dental Office in Sylvania
Missing teeth or loose dentures are problems of the past thanks to dental implants. Today, the art and science of placing dental implants has become a routine restorative procedure in many dental offices around the world. Now, Mini-Dental Implants are available and can reduce the time until you have a beautiful new smile.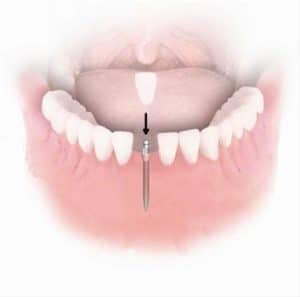 Dental implants are an outgrowth of the same discipline of orthopedic medicine that brought you titanium hips and knee replacements. In dentistry, implants are titanium substitutes for the roots of teeth. Once in place, they become firmly attached to the bone. An artificial tooth or denture is then attached to the implant.
At Dental Health Associates, we are pleased to offer Intra-Lock® Mini-Dental implants. Intra-Lock® Mini-Dental Implants are designed to replace single or missing teeth, support bridgework or stabilize dentures. There is no surgical incision and mini dental implants can be loaded immediately to stabilize dentures or partial dentures. Crowns and bridges are placed in days or weeks instead of months.
To learn more about the benefits of Mini-Dental Implants, contact our Sylvania office.