Porcelain Veneers In Toledo
At Our Dental Office in Sylvania
Porcelain veneers are ultra-thin, custom-made shells of tooth-colored materials designed to cover the front surface of teeth to improve your appearance. These shells are bonded to the front of the teeth, changing their color, shape, size, or length. Porcelain veneers are great at resisting stains and are able to mirror the light-reflecting properties of natural teeth. Veneers are an excellent improvement for imperfect teeth. They can correct teeth that are discolored, worn down, chipped or broken, misaligned, uneven, or crooked, and can even help close any spaces that you have in between them. In fact, porcelain veneers can even help improve a person's bite.
Dental Health Associates will custom-make your porcelain veneers to easily accommodate any of your needs. Our veneers have a translucent finish that blends in with surrounding teeth so people will notice only your beautiful, natural looking smile! Our Toledo dentists are completely committed to high-quality crown, veneer, and bridge restorations. Dental Health Associates has an in-house dental lab staffed with four highly trained technicians who will provide a personal consultation. Our onsite dental ceramists ensure that your porcelain restorations are all perfectly matched to your individual smile. We're ready to give you a smile that you deserve.
Veneer Benefits
Mask stained teeth
Hide chipped teeth
Correct crooked teeth
Close gap in teeth
Create uniformity
Treatment Details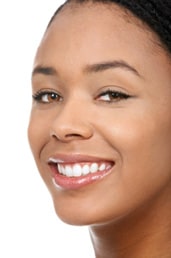 Prior to beginning the veneer placement process, a consultation is arranged to discuss the available options and determine the goals of treatment.
Traditional porcelain veneers are placed during a two-step process. The first step is to examine the affected teeth and take impressions of them, which will be used to design and create the customized veneers. The teeth receiving the veneers are prepared; a small bit of tooth structure is removed to make room for the veneers. While the permanent veneers are being fabricated, temporary veneers are placed over the prepared teeth and worn for a short period of time. Wearing temporary veneers is a good way to evaluate how the veneers look and feel and provide our dentists with feedback to incorporate into the permanent veneers. Based on this feedback, the permanent veneers can be adjusted as needed. Once the permanent restorations are ready, the temporary veneers are removed and the permanent restorations are bonded into place using a strong adhesive. Any last-minute tweaks are made for fit and comfort.
In addition to traditional porcelain veneers, Dental Health Associates also offers custom porcelain veneers with the same-day CEREC restoration system. CEREC allows our team to fit, craft and place beautiful, high-quality restorations in a single visit. This makes the entire process quick and convenient for our patients and our team. CEREC uses computer-assisted design/manufacturing software to plan out the veneers; this information is then used to calibrate the machine that builds the veneer out of a block of porcelain. Our CEREC patients love their results. See for yourself at our veneer before and after gallery!
See if you are a good candidate for veneers by scheduling a consultation with our Dental Health Associates Sylvania office by calling today!