William Huntzinger, D.D.S.
Dental Specialist in Sylvania, OH
Jump directly to Dr. Huntzinger's featured services!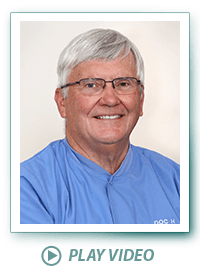 William Huntzinger, DDS, is a graduate of The Ohio State University and Case Western Reserve Dental School. He completed his dental residency program at St. Joseph Health Center in Syracuse, New York. Dr. Huntzinger has provided the highest quality of dental care to area residents since 1981 and has been active in Children's Dental Health Month in the community. He is a member of the American Dental Association, Ohio Dental Association, Toledo Dental Society, Academy of General Dentistry, Academy of Sports Dentistry, Academy of Sleep Dentistry, and the American Academy of Implant Dentistry. Dr. Huntzinger is also a founding member of the International Academy of Mini Dental Implants. Dr. Huntzinger regularly attends various continuing education courses each year to ensure our office is providing the best treatment possible for our patients. He has a special interest in cosmetic dentistry, implant dentistry, treatment of sleep apnea, and the management of dental anxiety. Dr. Huntzinger and his wife, Nancy, have two grown sons. Andrew followed in his father's footsteps and is a dentist in Sylvania, where he also lives with his wife Jen and their two boys. Nate is a graduate of Lourdes University and is living in North Carolina where he owns his own online business, www.menottees.com. Nancy and Dr. Huntzinger are both active in various community and church organizations, which have included coaching soccer and basketball, teaching Sunday school, and being a member of the park board. Dr. Huntzinger spends his spare time trying to improve his golf game, spending time with his grandsons Luke and Jake, staying current with the latest advances in computer technology, and attempting to remain calm during Ohio State football games!