Full Mouth Reconstruction In Toledo
At Our Dental Office in Sylvania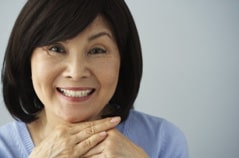 At Dental Health Associates, we have experience treating even the most complex needs of our patients. Some of our patients have lost or damaged all (or nearly all) of their teeth and need a treatment known as full mouth reconstruction. This term describes the process of replacing or rebuilding all of the teeth in the upper and lower jaws through a combination of restorative dentistry treatments.
Who Needs Full Mouth Reconstruction?
Individuals that may need full mouth reconstruction have:
Severely injured or fractured teeth
Severely worn teeth
Missing teeth due to dental disease, decay or trauma
Problems with the bite that are causing jaw, muscle or head pain
The Treatment Process
Prior to beginning any treatment, our team meets with every patient on a one-on-one basis to discuss the patient's specific needs and goals of treatment. A thorough examination is performed to identify the areas of concern, and a comprehensive, step-by-step treatment plan is discussed.
Based on the patient, the treatment plan may include any combination of the following:
Dental crowns to cover and protect fractured or broken teeth
Dental implants to permanently replace missing teeth
Dental bridges to close gaps left by missing teeth
Periodontal treatment to treat excessive or insufficient gum tissue
Orthodontic treatment to correct problems with the bite
Depending on the extent of the treatment plan, these services may be performed in separate stages, or combined into a single appointment
Contact Dental Health Associates
For more information about full mouth reconstruction, please contact the team at Dental Health Associates and request a consultation.