Porcelain Dental Crowns In Toledo
Dental Office in Sylvania, Ohio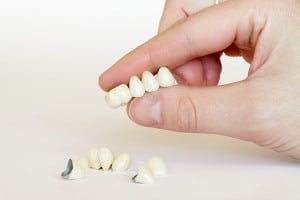 Dental Crowns, or caps for teeth, look and function just like natural teeth. A dental crown may be recommended if your tooth has too much decay for a filling, or if your tooth is cracked or broken. Porcelain crowns blend in with surrounding teeth and provide a strong, long-lasting repair for broken teeth, cracked teeth or yellowed teeth.
Here is what porcelain crowns can do :
Fit snugly over natural teeth to conceal cracks and chips
Conceal yellow teeth
Protect what remains of the natural teeth
Minimize the physical discomfort of tooth sensitivity
Are allergy free
Provide support for damaged teeth
Correctly align a patient's bite
Even out the overall appearance of a smile
Serve as anchors for a dental bridge
How Are Porcelain Crowns Placed?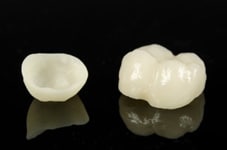 Traditional crown placement typically involves two appointments. During the first appointment, the tooth is prepared for the crown. A small bit of tooth structure may be removed to make room for the crown. Local anesthesia is used to prevent any discomfort. Impressions are made of the tooth and sent to the dental laboratory that fabricates the crown. A temporary crown is placed over the prepared tooth to protect it. Once the permanent custom crown is ready, the second appointment is scheduled. The temporary crown is removed and the permanent crown is bonded or cemented into place using a strong dental adhesive. Any last-minute adjustments for fit are made as needed. The crown is buffed and polished to give it a translucent quality similar to natural tooth enamel.
Our team also offers porcelain crowns with the revolutionary CEREC machine. This technology allows us to fit, craft and place permanent crown restorations (as well as veneers, inlays and onlays) in a single visit. CEREC uses digital photography and CAD-CAM software to plan out the restoration, which is then crafted from a piece of high-quality porcelain. CEREC radically enhances the convenience and ease of the porcelain crown placement process.
Contact Our Team Today
At Dental Health Associates, we use all-porcelain crowns for the best results. For more information about our porcelain crowns, please contact us today.
While some dentists lack the knowledge and staff to provide their patients with porcelain crowns, our Toledo dentists are so committed to high-quality crown, veneer, and bridge restorations that we have our own in-house dental lab. The lab is staffed with dental ceramists who ensure that your porcelain crowns and restorations are all perfectly matched to your individual teeth and create the smile you want.